Collagen PEPTIDES+ Advanced Immune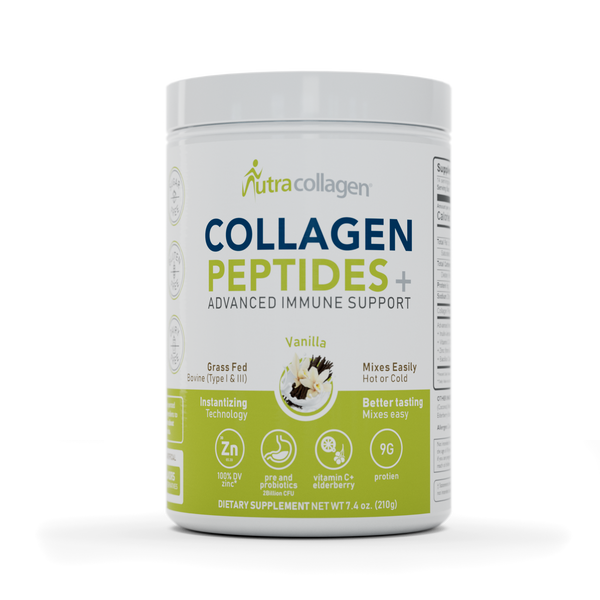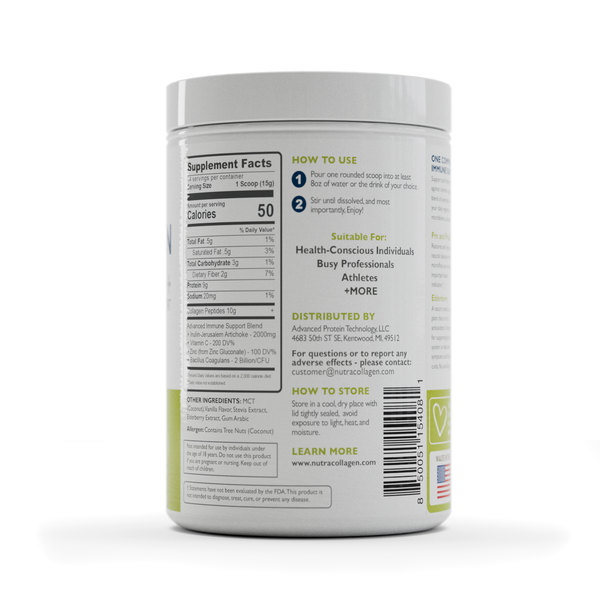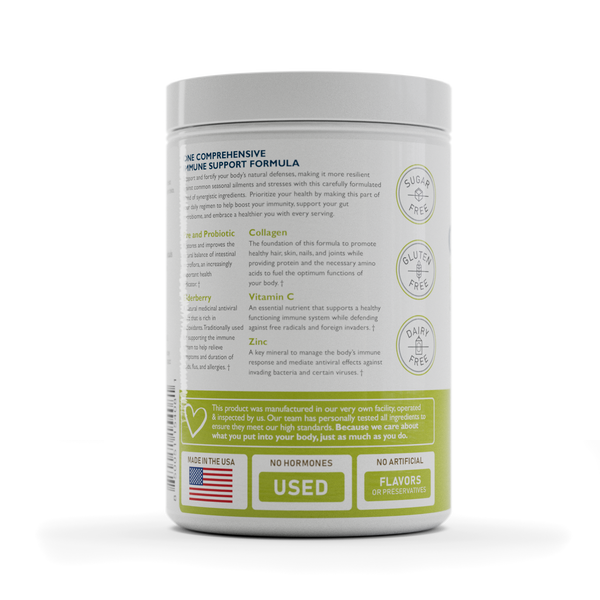 Nutra Collagen's COLLAGEN PEPTIDES ADVANCED IMMUNE SUPPORT

One comprehensive immune support formula to help fortify your body's natural defenses, making it more resilient against common seasonal ailments and stresses with this carefully formulated blend of synergistic ingredients. Prioritize your health by making this part of your daily regimen to help boost your immunity, support your gut microbiome, and embrace a healthier you with every serving.
Benefits
Collagen Peptides+ Advanced Immune Support
• 10g Collagen Peptides - The foundation of this formula to promote healthy hair, skin, nails, and joints while providing protein and the necessary amino acids to fuel the optimum functions of the body*.
• 9g Premium Protein
• Healthy fats: MCT from Coconut Oil provides your body & brain with an instant source of energy* and potentially better brain health.*
• 2 Billion CFU Pre and Probiotics to help restores and improves the natural balance of intestinal microflora, an increasingly important health indicator.
•Elderberry- A natural medicinal antiviral plant that is rich in antioxidants. Traditionally used for supporting the immune system to help relieve symptoms and duration of colds, flus, and allergies.
• Vitamin C - An essential nutrient that supports a healthy functioning immune system while defending against free radicals and foreign invaders.
• Zinc - A key mineral to manage the body's immune response and mediate antiviral effects against invading bacteria and certain viruses. *
• 50 Calories, Sugar Free, Non-GMO, Gluten Free, Dairy Free
• A rich, inviting, yet surprisingly subtle Vanilla aroma and flavor
• Easy-To-Use: Quickly prepares with hot water as "instant," or to or add to any recipe or cold and hot beverage alike. Great for refreshing cold shakes and smoothies!
Ingredients
MCT (Coconut), Vanilla Flavor, Stevia Extract, Elderberry Extract, Gum Arabic,
Allergen; Contains Tree Nuts (Coconut)