Collagen Coffee+ PUMPKIN SPICE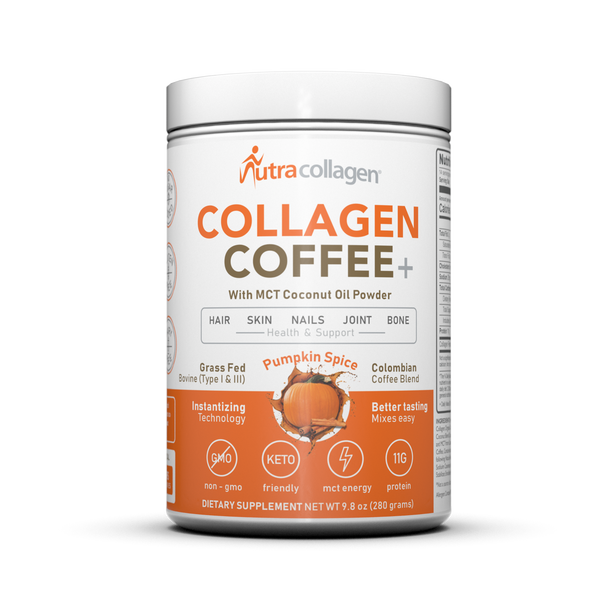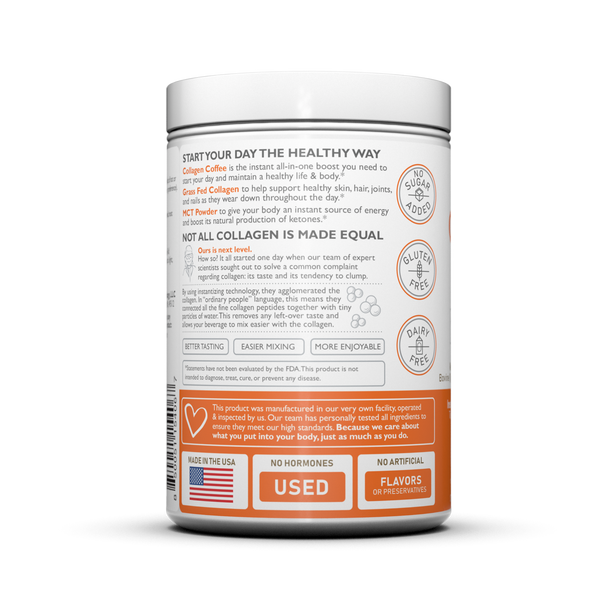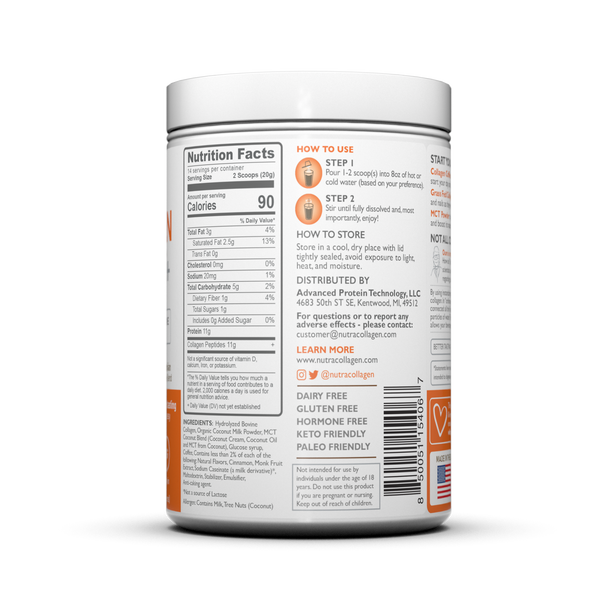 Pumpkin
 season is here! This cozy collagen coffee drink can be best enjoyed to start your day, as an afternoon pick-me-up or even as an after dinner treat. A blend of the rich tastes of flavorful 
pumpkin
, coffee, and a super creamy combo of warm spices. The quintessential flavor of fall.
Benefits
This cozy collagen coffee drink can be best enjoyed to start your day, as an afternoon pick-me-up or even as an after dinner treat. Pumpkin spices and a hint of real Columbian coffee in the creamiest latte you'll ever have!
• 11g Collagen Peptides
• 11g Premium Protein
• 5g Carbohydrates
• Healthy fats: MCT from Coconut Oil provides your body & brain with an instant source of energy* and potentially better brain health*.
• 90 Calories, 1g Sugar, Non-GMO
• 40mg Caffeine per serving
• Smooth & Creamy blend of coffee and the rich tastes of PUMPKIN SPICE shake or coffee brew
• Easy-To-Use: Quickly prepares with hot water as "instant," or simply to add collagen to your coffee, or add to any recipe or beverage that you may want to have a pumpkin spice flavor. Also great for refreshing cold shakes and smoothies!
Ingredients
Hydrolyzed Bovine Collagen, Organic Coconut Milk Powder, MCT Coconut Blend (Coconut Cream, Coconut Oil and MCT from Coconut), Glucose syrup, Coffee, Contains less than 2% of each of the following: Natural Flavors, Cinnamon, Monk Fruit Extract, Sodium Caseinate (a milk derivative)*, Maltodextrin, Stabilizer, Emulsifier, Anti-caking agent.
*Not a source of Lactose
Allergen: Contains Milk, Tree Nuts (Coconut)