Collagen Coffee+ PEPPERMINT MOCHA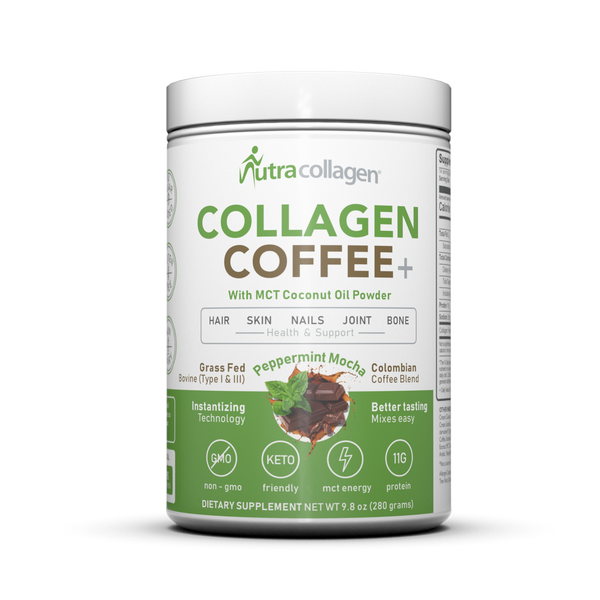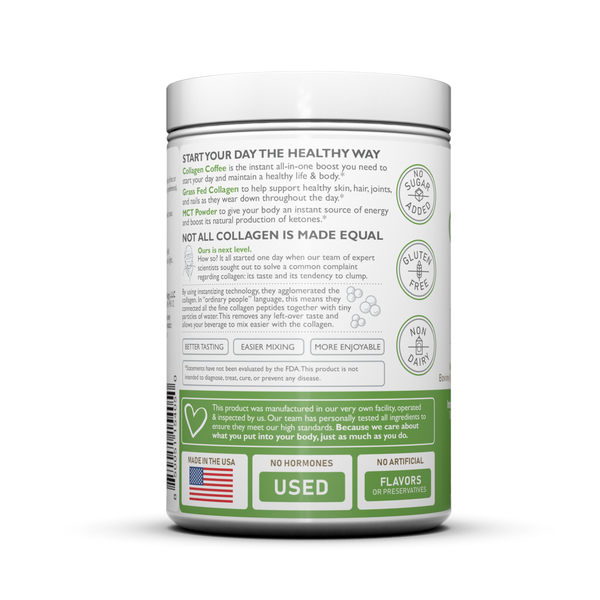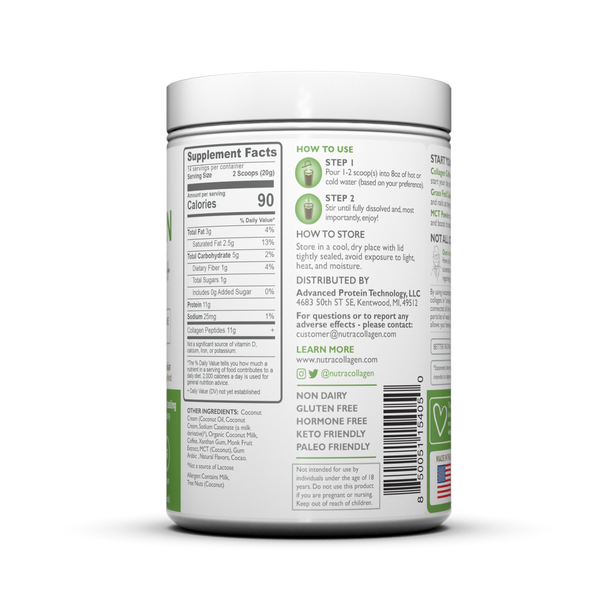 It is the taste of the holidays in a cup! Truly a winter wonderland of flavors...The infusion of peppermint that truly sets this seasonal sensation apart. The invigorating, cool minty flavor dances gracefully with the bittersweet allure of premium chocolate and light coffee notes to create a symphony of taste sensations that will whisk you away to a world of seasonal bliss, one sip at a time.
Benefits
Collagen Coffee+ PEPPERMINT MOCHA brings a delectable and seasonal bliss to your love of coffee and collagen.
• 11g Collagen Peptides
• 10g Premium Protein
• Healthy fats: MCT from Coconut Oil provides your body & brain with an instant source of energy* and potentially better brain health*.
• 90 Calories, 1g Sugar, Non-GMO
• 40mg Caffeine per serving
• Rich, velvety aromatic notes of freshly brewed COFFEE
• Easy-To-Use: Quickly prepares with hot water as "instant," or to or add to any recipe or cold and hot beverage alike. Great for refreshing cold shakes and smoothies yet makes the perfectly balanced morning brew.
Ingredients
Hydrolyzed Bovine Collagen, Organic Coconut Milk Powder, MCT Coconut Blend (Coconut Cream, Coconut Oil and MCT from Coconut), Glucose syrup, Coffee, Contains less than 2% of each of the following: Natural Flavors, Cinnamon, Monk Fruit Extract, Sodium Caseinate (a milk derivative)*, Maltodextrin, Stabilizer, Emulsifier, Anti-caking agent.
*Not a source of Lactose
Allergen: Contains Milk, Tree Nuts (Coconut)